So as I promised, I will now start handing out the thanksgiving recipes. Tonight I'm doing my low-fat, simple, gluten-free, and delicious mushroom gravy. The gravy can be a mix of any mushroom combination that you want. I went with white button & baby bellas. The key is to keep de-glazing the pan as you cook the 'shrooms and too keep stirring so they don't get overcooked.
It's a pretty easy recipe to tackle, especially if you don't have to trip over this crazy dog who's just waiting for SOMETHING to drop the whole time you are cooking.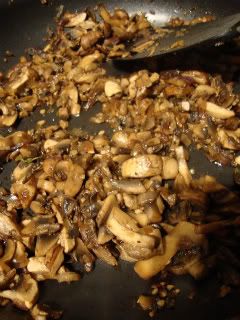 Here they are before going into the Cuisinart.
The finished product, with fresh thyme on top.
Mushroom Gravy
6 cups of chopped mushrooms
1/4 cup chopped shallots
1/2 cup chopped red onion
5 cloves chopped garlic
1 sprig of thyme
5 Tbs soy sauce---I use low sodium
1/2 veggie broth
1 1/3 cup unsweetened soy milk
1 Tbs. minced garlic
-Saute shallots, red onion & garlic until translucent adding the thyme a few minutes into the saute
-Add mushrooms and 1 tbs of soy sauce, continue cooking till mushrooms are ready and use 2 more 2tbs of soy sauce to de-glaze the pan and keep stirring the entire time
-When mushrooms are done place in Cuisinart with remaining soy sauce and minced garlic
- Start blending and slowly add veggie broth and soy milk until the gravy is the right consistency
-Transfer back to stove and reheat...top with fresh thyme & enjoy
- I never add measurements for salt & pepper to recipes, because i think every cook has their own idea of how much of those two should go in each dish. That being said for this dish i add A LOT of my rainbow ground peppercorn blend.
Tonight I'm going to use the leftovers to make a Thanksgiving panini ,then putting up our Christmas tree. We bought a 7 foot purple tree today that I can't wait to decorate! Pictures coming soon.